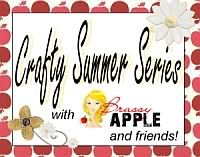 Brassy Apple is hosting a crafting summer series and I joined in. This week she asked her readers to share an idea for the car.
Well...it just so happens my lap trays are perfect for the car!
I keep Connor's filled with:
coloring book
crayons
flash cards
(sometimes) a small tub of playdough
books
....and whatever else she drops in.
It is great because the side compartments holds just enough while the top is a flat surface which allows her to do anything...even eat lunch!
You can find these on my Etsy Shop and get them personalized with just about anything!